WHAT TO DO IN WINTER IN LONDON
If you are wondering about a great time to visit London, my suggestion is to visit London in winter. Yes, it might be gray and rainy, but in London, that can happen at any time. So, visiting in winter means you at least get all the fun winter activities to do. I think London is one of the best cities to visit in December in Europe.
So, find out about the best things to do in London in winter – where to go and what to see, plus many travel tips for your trip.
DISCLAIMER: THIS POST CONTAINS AFFILIATE LINKS. THIS MEANS I MIGHT EARN A SMALL COMMISSION WHEN YOU BUY A PRODUCT/SERVICE (AT NO EXTRA COST TO YOU. MORE ABOUT IT HERE.
Christmas by the River / South Bank
Strolling the South Bank is a must-do. It is located beside the River Thames and is a dynamic area at any time of the year.
However, it is even nicer to stroll the riverside in the pre-Christmas period.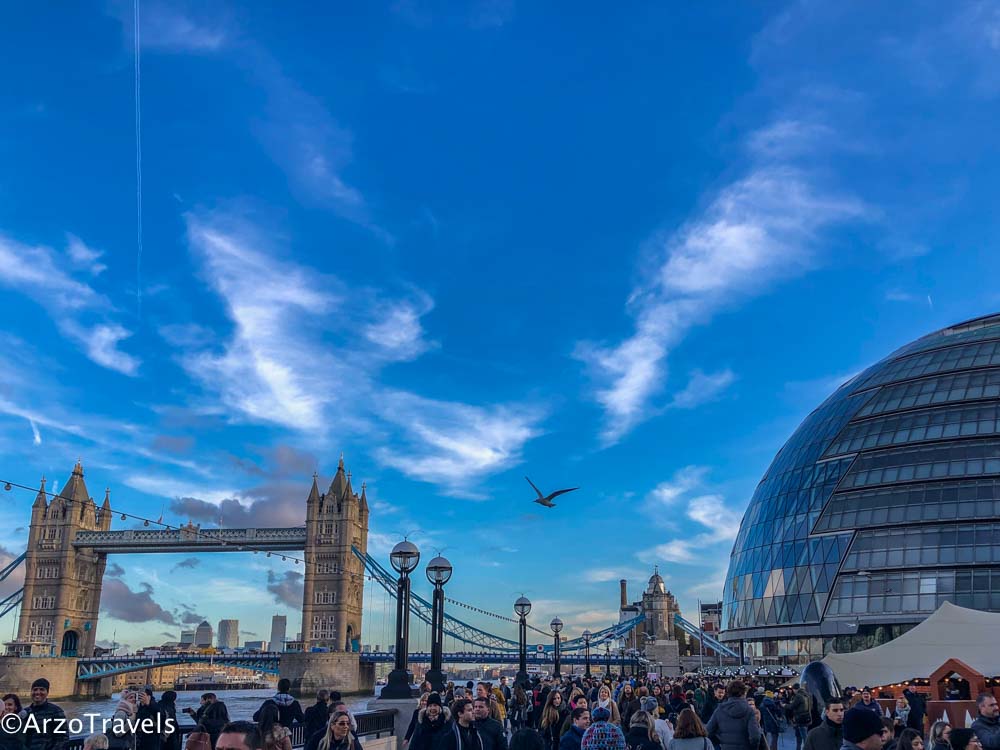 There are bars and cafes to warm up in – and of course, all the beautiful lighting that makes places on a gray day even nicer!
Let's not forget the views along the way either, but most of all, there are many different activities to do before Christmas.
You can join "Walking with The Snowman" – 12 giant snowmen sculptures are located along the way. This trail is based on the nation's favourite festive story "The Snowman".
So, you can sign up for workshops like creating your own cards (and there are even some children's activities) – it is more than the usual stalls that offer snacks, drinks, and gifts.
Yes, this place is a must-visit in late November/December.
Geffrye Museum now The Museum of the Home
The Geffrye Museum is now The Museum of the Home and if you are looking for some indoor winter activities check out this museum that informs the visitors about Christmas celebrations over the last few centuries. You'll find authentically-decorated living rooms and more information on Christmas.
It is completely free to visit, but you need to book a ticket online.
Hyde Park Winter Wonderland
If you happen to visit London in winter, make sure to plan in some time to visit Hyde Park Winter Wonderland
Visiting London in winter means: enjoying the Christmas markets and eating your weight in snacks, drinking mulled wine, and then burning all the extra calories by ice skating at Hyde Park.
BUT it also means rollercoaster rides – so, if you want a bit of a thrill, then hop on one of the illuminated rides.
While it is one of the most popular places to go in winter, I must say that it felt more like a fair than a Christmas market. However, kids, as well as adults, loved it.
It is free to visit but you have to pay for rides and, of course, food and drinks.
Christmas Markets
There are many Christmas Markets throughout London – some are so good they deserve an extra paragraph here. And good news:
As pretty as outdoor London is in winter, sometimes we need to warm up (especially if you don't drink mulled wine like me). So check out indoor Christmas Markets – or at least the covered markets (rain in London is nothing unusual).
Carnaby Street Lights
One of the most beautiful streets to visit in winter in London is Carnaby Streets. The popular street is located in Soho and is easily reachable from Regent´s Street. Here, you will find Christmas decorations that is different from the rest of London- there is no typical Christmas lights though it is fully decorated.
the decorations come with a political and important message. In 2019, the message was to use less plastic to keep the oceans clean! So, this is why all decorations have been made out of recycled plastic.
And though it seems hardly anyone actually cares in London during Christmas time (and single-use plastic is widely used), it hopefully is a good reminder to use for the future to be more conscious of what we consume.
Pubs
Winter is the perfect time to spend in pubs. The pubs in England are charming – often with flowers outside and Christmas trees and decorations for a festive atmosphere.
I am not a drinker, and I am not a pub lover – but I can't help but admire the beautiful pubs all over London. And I have to admit that, especially in the cold winter months, pubs are a good place to spend a few hours. Also, it is not only about drinks but food, too.
There are even pub walking tours that you can take.
Ice Skating
As mentioned above, there is one ice rink at Hyde Park, but there are many more that you can visit. So, bring your own skates and hit the ice rink. But of course, you could also rent some if you don't travel with your own skates.
While there is only one ice rink at Hyde Park, many others are open in December or January.
Somerset House
Another must-see place in winter in London is the Somerset House – and not only because it has an open-air ice rink.
The ice rink at Somerset House has particularly nice surroundings, and with the big Christmas tree, there is surely a lot to see. And thanks to all the little stalls, there is a lot to eat, too.
Trafalgar Square
If you are into beautifully decorated Christmas trees, then check out Trafalgar Square´s Christmas tree that is about 20 meters high. It goes up at the beginning of December and stays until the beginning of January.
It is an annual gift from Oslo (Norway) for the help they received during the Second World War.
If you arrive at the end of November, Trafalgar Square is still worth a visit – the Christmas Market in front of the Victoria Museum is absolutely charming, and the view of the Trafalgar Square makes it one of my favorite places after the sun sets, and the lights get switched on.
Millennium Bridge
Cross the Millennium Bridge towards St. Paul´s Cathedral – not only because it is one of the best photo locations, but also because you can read some "secret" messages.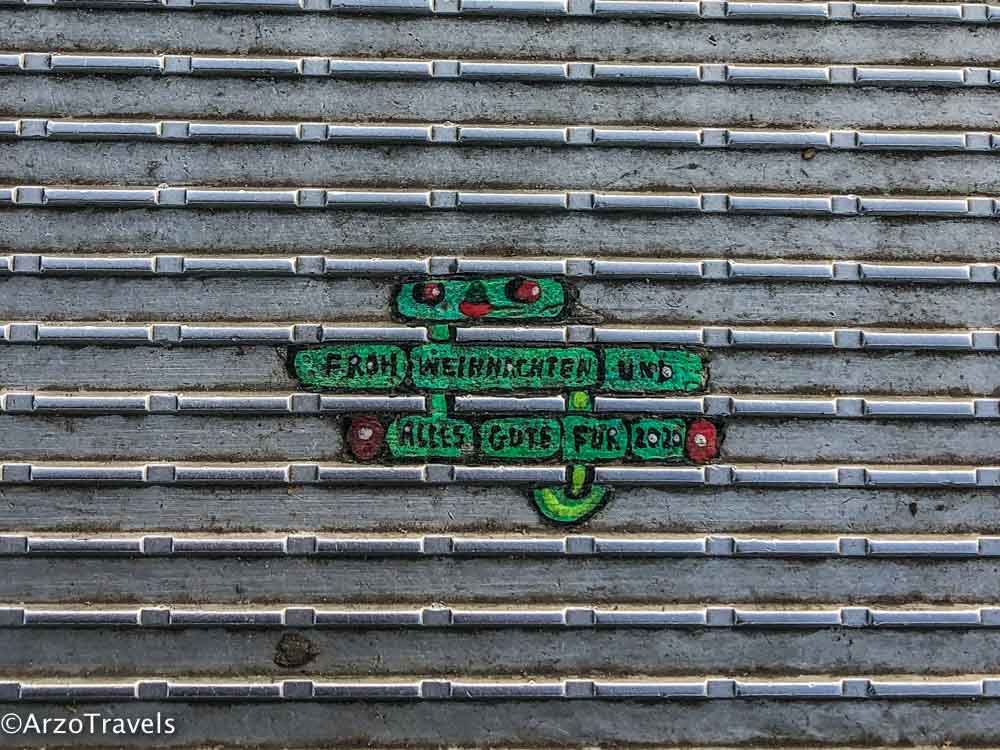 You will find many different messages in different languages, like those that wish you a Merry Christmas and a Happy 2020 (in German).
Afternoon Tea Bus
One of the prettiest buses I saw in London in November/December was the Afternoon Tea Bus. If you are into things that are typically British, you should do an Afternoon Tea.
The Afternoon Tea is offered in a red double-decker bus, which comes with little tables and is beautifully illuminated. Enjoy the afternoon tea while cruising the main attractions of London in around 90 minutes.
I was quite envious when I saw the bus passing me several times.
Winterville
A bit further from the other winter activities mentioned here is the free pop-up park town, Winterville.
An entire Christmas Town is here to entertain you and make you feel happy – including Christmas townhouses, an ice rink, roller disco, fairground, and a cinema.
Harrod´s
Oh, Harrod's! Harrod´s is one of the most iconic shopping malls in the world. Before Christmas, it looks even more stunning and is probably one of the prettiest buildings in the city center.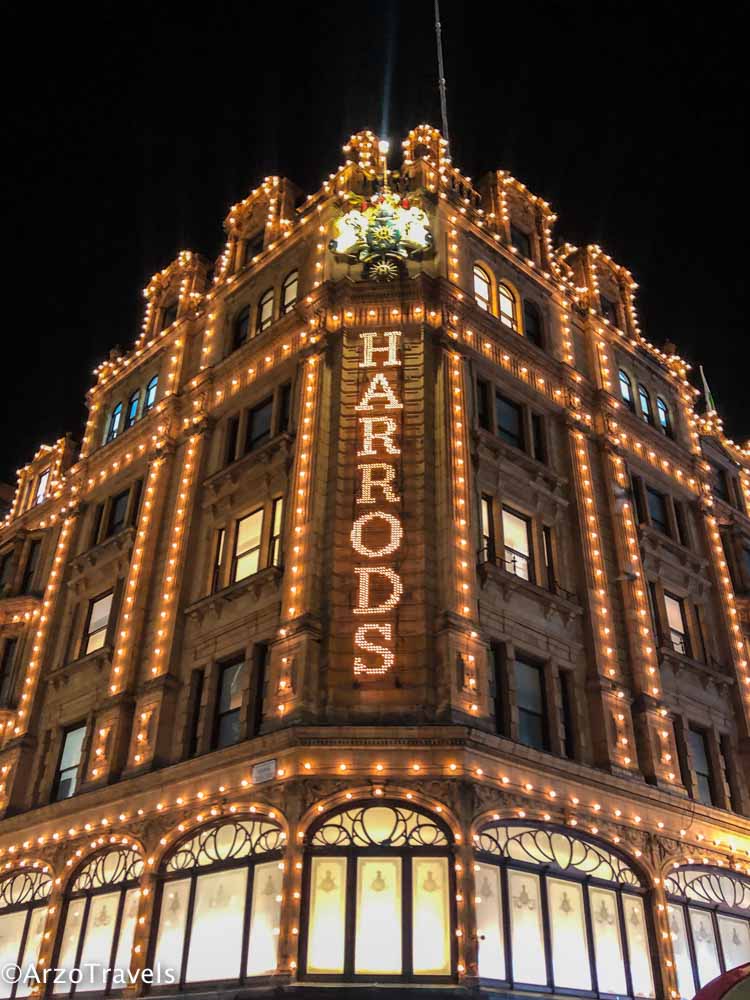 It also has great Christmas decorations inside – so hop in to see what the Harrod´s fuss is all about and add this to your London winter itinerary.
Rooftop Bars
Rooftops are not only great to visit in summer – they can be a perfect place to spend some time in winter, too. At least in London.
So, for the winter months, some rooftop bars have unique decorations so that you can experience London from above while having a drink.
One rooftop bar to check out is the Queen of Hoxton's Rooftop, which was inspired by Morocco and the famous Jardin Majorelle (aka the Yves Saint Laurent garden) this year.
Coppa Club Tower Bridge
For a unique view of Tower Bridge – and a unique dining experience – book an igloo at Coppa Club Tower Bridge.
Bookings need to be made weeks in advance (especially if you visit during the weekend), and then you and your friends can warm up in the cozy igloos.
Oh, you can even spend New Year's Eve here – plan in advance as it is a popular place.
Yes, I was too late, and though I checked the website more than 1 week in advance. There were hardly any free tables left for dinner, but I still think it is one of the best things to do in London in winter even though I haven't experienced it myself.
Shop
If you are into shopping, then London is the perfect place. With its numerous shopping streets and markets, you will for sure find something for your loved ones (or even for you).
Be careful not to go overboard with the many shopping options and don't buy things you don't need – which can easily happen with all the temptations.
But if you still need something, London is the perfect place for some shopping – even after Christmas, as you then have the sales starting in January.
Covent Garden
Covent Garden is always worth a trip, and so it is, of course, also during the Christmas month.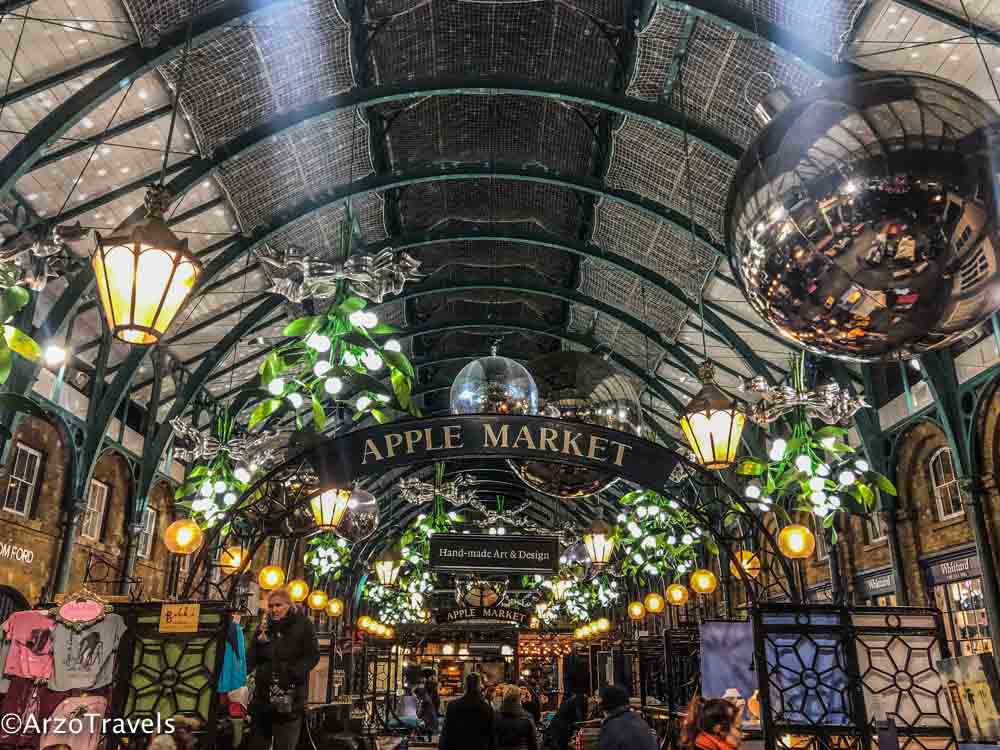 Covent Garden is also one of the busiest but also best places to visit in December in London – the cafes and restaurants are full of people. And not only people – if you can't get enough of Christmas trees, come to Covent Garden. There are so many trees decorated that you couldn't even count them (well, kind of).
The main Christmas tree has more than 30,000 lights! But there are also some entertainers (musicians and actors), so it is also a fun thing to do in London with children.
St. Paul's Cathedral
St. Paul's Cathedral's entrance fee is high – more than $25 if you buy the ticket on the spot. But before Christmas, it is one of the best places to see. And if you come for the services, it is actually free to visit.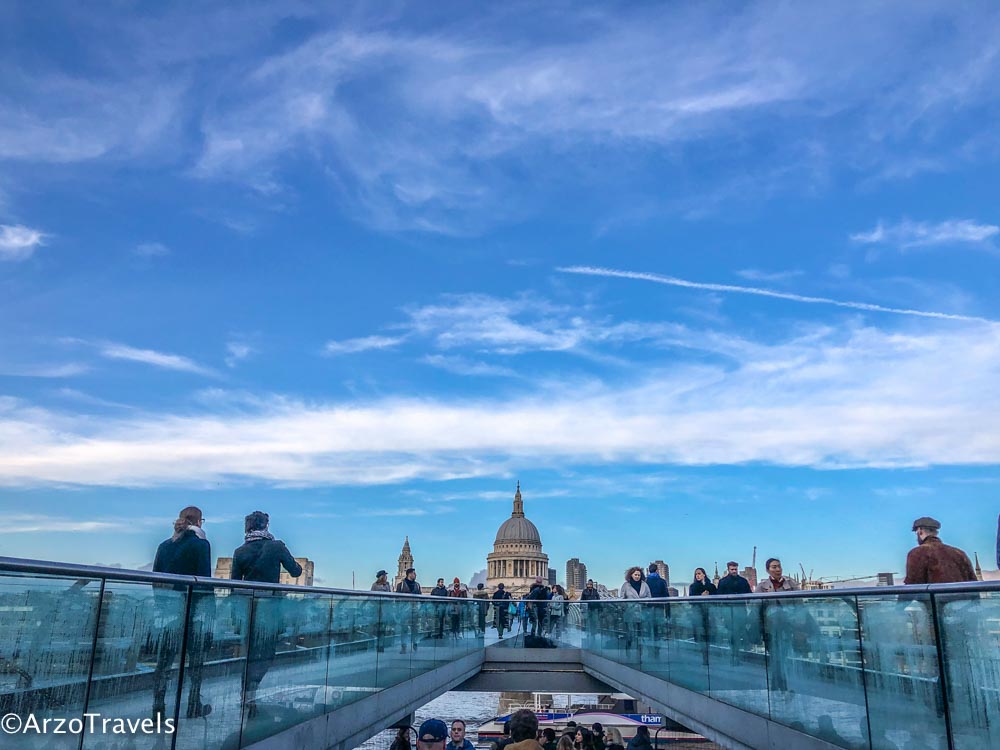 If you visit on December 23 and Christmas Eve, you can catch the service relayed on a big screen at Paternoster Square next to the cathedral.
I visited once (years ago), and it was mesmerizing. Shortly before Christmas with its festive atmosphere, it is even more lovely. However, if you have some money to spend, why not here rather than on unnecessary things?
Christmas on the Canals
Take a Christmas canal ride and see London from the water. Hidden Canal Cruises offers relaxing cruises down the Regent's Canal in full festive finery for the season.
While I didn't experience it myself, I suggest doing the cruise with your friends – a fun evening activity during the winter.
Regent's Street
The most beautiful street in London in winter must be Regent´s Street. This popular shopping street is probably the very best places to visit.
While it is extremely illuminated and there is a lot of bling-bling, it still feels classy and not overdone. If you had only a few minutes in London (I know, it sounds ridiculous), then you should visit Regent´s Street once it gets dark.
Natural History Museum
Whether you want to learn more about natural history or you want to go ice skating: here you can do both and even more.
From the end of October until mid-January, you can skate on the ice rink that is surrounded by fairy lights nestled in frost-covered trees.
Theatre
With the cold comes the wish to stay in cozy, warm, indoor places – so, why not visit a theatre and combine warming up with a Christmas theatre play?
Please don't ask me about my personal opinion as I did not get to visit any (to do all these London winter activities you need more than 48 hours), but The Snowman and Slava's Snow Show at the Royal Festival Hall are known to be great winter plays.
New Bond Street
After Regent Street, the New Bond Street is another must-see in December. The shopping streets are also beautifully illuminated and make this street one of the most prettiest in London.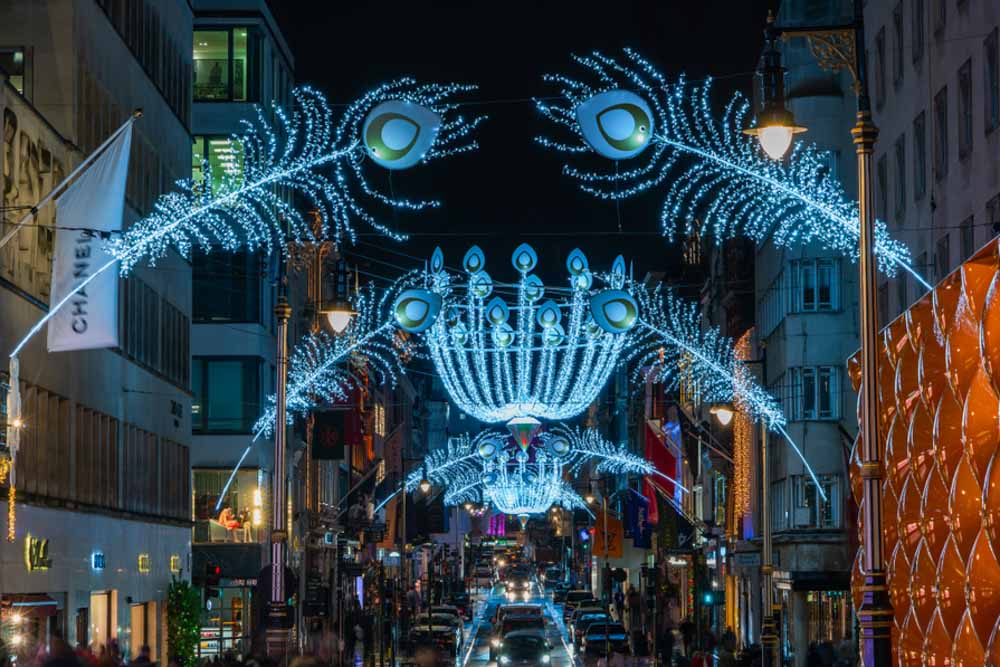 You can easily get there from Regent Street, and it is almost as stunning as Regent Street.
Museum of Childhood
Another indoor place that is great to see in the wintertime is The V&A Museum of Childhood, which is free to visit.
Whether you want to reminisce and think about Christmas gifts we used to get (assuming most of us on this blog are at least 30 years old) or want to do workshops – activities here are free and for most ages.
Little ones can join the interactive storytelling – this is probably one of the best free things to do in London in winter.
Kew in the Dark
This is probably the best thing to do in the winter in London – I can guess, as it was already fully booked, so I had to pass.
The botanical gardens host a magical nighttime experience, showcasing the sculptures, buildings, and trees in a totally different way. The fairytale walk also has roasted chestnuts and other tempting treats along the route to tempt you off course.
New Year's Eve Fireworks
If you visit at the end of the year, make sure to stay in London for New Year's Eve. It must be magical to welcome the new year in London with all the fireworks.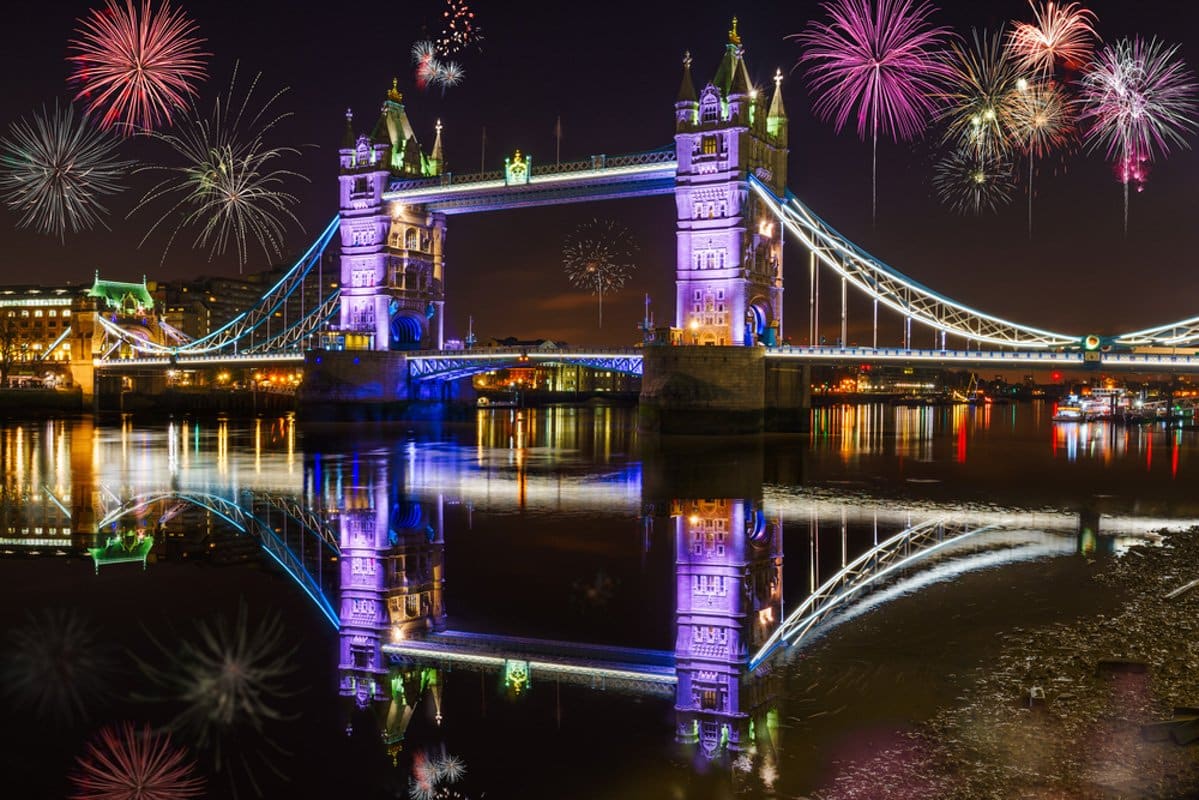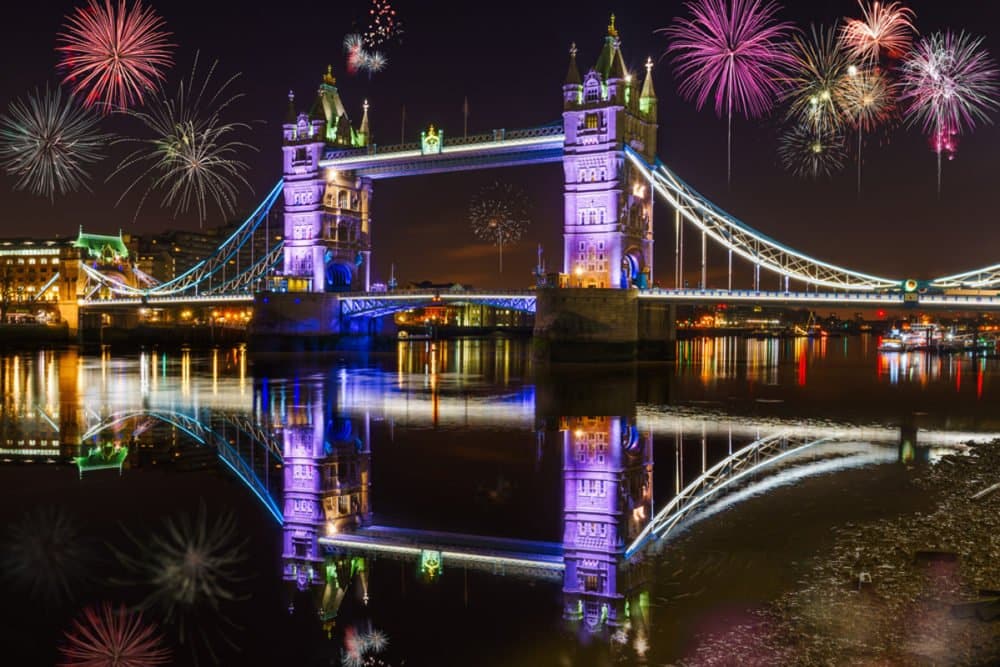 However, to watch the Thames River's fireworks, you have to pay an entrance fee of about $12.
Spa Time
While spa visits are always a good idea, the best time to get pampered is in the cold months. Whether you want to relax before the Christmas stress or just after, book yourself a spa appointment. We all deserve to spend some time where it is all about us only.
Christmas Lights Bus Tour
Yes, this is another must-do in December – hop on a Christmas Lights Bus Tour and see most (though not all) of the fun and impressive places that are uniquely decorated.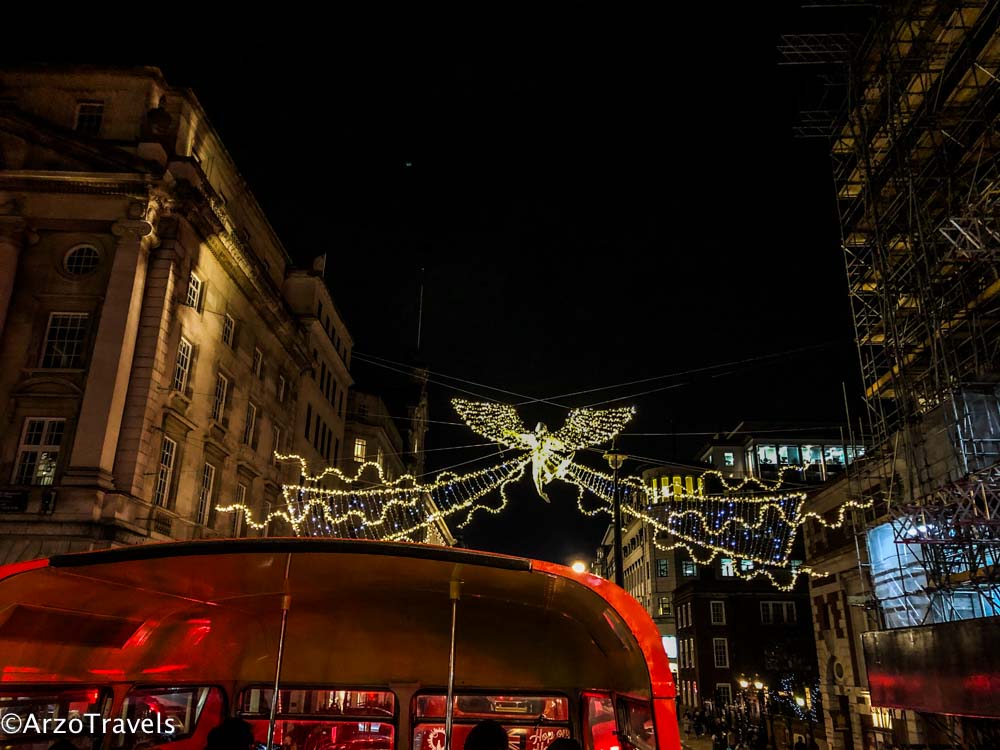 Even though the double-decker buses are not heated – and it is cold – it is a great way to see the Christmas decorations from "above" and within a short amount of time.
Yes, I am not ashamed to admit that I wanted to see all the main Christmas lights, and thus, I additionally booked a light bus tour.
So, do as I did and enjoy a 2-hour bus ride (starting at Victoria Station) and get to see the beautiful, decorative lights all over London while sitting on a bus and relaxing.
Christmas Lights Walking Tours
Yes, while the bus tour is amazing, you can also do a walking tour and see other places the bus tour doesn't cover. Dress warm and wear comfy shoes and get ready to see some of the most beautiful places in London in winter.
I love walking tours, and there are many offered in December, January, and February, too.
If you visit London in December, then make sure to join one tour or plan your walking itinerary yourself carefully, so you don't miss out on the top spots for festive lighting.
Cycle
London is quite bicycle-friendly – and in the wintertime, not that many people cycle, which means you have the cycle lanes almost all to yourself.
I would not ride a bike when it's icy, but other than that, pay a one-time fee of around $3 for 24 hours and discover London by bike (the city is quite big).
You can use the bike for 30 minutes without any extra fees and can bring it back to any of the numerous docking stations and immediately rent the bike for the next short bike tour.
This way, you don't miss out on all the pretty little side streets while still getting around quite fast.
Christmas at Leicester Square
If you are into Bavarian winter Christmas Markets, you can head to Leicester Market. Located in between Covent Garden and Picadilly Circus, this small market is supposed to be a traditional Bavarian market.
While it is cute, I am not sure whether Bavarian Christmas markets are really like that – well, the food and drinks surely have a real heavy and hearty German touch.
Ever After Garden
Whether it is a hidden gem in all the Christmas markets or not – head to Grosvenor Square and get some lovely pictures from the "light tunnel."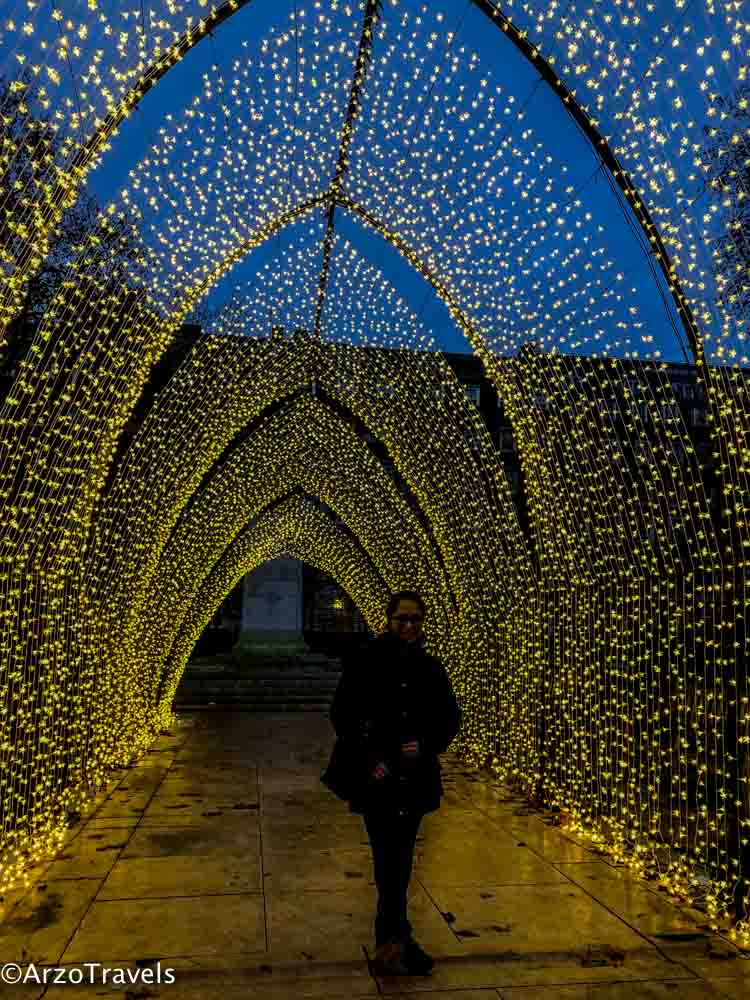 Especially if you can't make it to Kew Garden, this might be a kind of alternative for your Instagram picture.
You can also donate some money, get a white rose, write a message to one of your loved ones, and stick it to the rose. The roses are then displayed and illuminated – it looks beautiful and helps collect some donations to go to the Cancer Center.
LONDON IN WINTER TRAVEL TIPS
Weather: London in winter will be cold for sure. But it is not always freezing cold – temperatures are low with some rain, with a little snow, can be expected.
WHAT TO PACK FOR LONDON IN WINTER
If you visit London in December – or winter in general – it is important to dress warmly. Or better to dress in layers.
A

warm, waterproof jacket

should be one of the first items you think to pack. Avoid choosing a bulky jacket that takes up a lot of space. This can make you feel uncomfortable when you have layers underneath. Instead, opt for a lightweight trench raincoat that will keep you warm, dry, and comfortable.

A

knitted beanie

is a perfect solution for keeping the warmth in while you venture out. A hat will keep you toasty warm wherever you are.

A

pair of gloves

can do wonders for your mobility and comfort. When selecting your options, it's worth investing in a pair that can dry quickly and are touch-screen compatible.

A

warm scarf and/or turtleneck sweater are key items for keeping your neck covered. A

turtleneck sweater

is perfect as a garment to wear underneath your jacket, while the scarf can be removed easily.

Leggings

are an essential item to pack as you can dress them up or down. You can even wear them underneath your denim as an extra layer of warmth.

When it comes to

packing socks

for your Iceland trip – the thicker, the better. The chances are that you'll be spending a lot of time outdoors in the snow, and you'll want your feet to be warm and cozy.

My favorite winter clothes are thermals.

A quality

set of thermals

is your key to enjoying the winter weather in Iceland. You have to wear them on a cold day to believe what a wonderful invention it is!

Make sure you have a trusty pair of

waterproof snowshoes. You'll want your shoes to be as versatile as possible. Snowshoes allow you to enjoy a variety of activities while keeping your feet warm and dry.
Public Transportation in Winter
Don't worry about renting a car – there is so much traffic, parking is difficult, and public transportation is too good to worry about driving yourself.
The best way to get around in winter is via public transportation. Though I recommend some cycling as well, you will probably walk or use buses or the underground to get around most of the time.
Oyster Card:
Buying an Oyster Card makes sense if you use public transportation often. You can load it up with credit and swipe it in/out at every bus or underground station. In the end, it finds the best rates and calculates the cheapest tickets (so, no need to worry beforehand if a day ticket will be cheaper than single tickets).
And that is just because it is the best way to get around.
Accommodations in London For Your Winter Trip
Accommodations in winter: London in winter, especially in December, can be quite busy, and finding good accommodations spontaneously is not that easy. I suggest planning and booking in advance for December, but it is less busy in January and February.
Luxury Hotels in London: Ritz-Carlton is one of the top hotels. It is also conveniently located in the city center and quite close to Buckingham Palace. Click here for the best rates and more info.
Mid-Range Hotels in London: 3-star hotel Hampton by Hilton Waterloo. Find out more about this hotel and get the best rates here.
Budget Hotels in London: This hostel is well-rated, conveniently located, and if you book a bed in a dorm, you can actually get a bargain. Click here to get the best rates for YHA London Central.
Accommodation in London is quite expensive – so even the more budget-friendly places cost a bit or are quite far from the city center.
FINAL THOUGHTS ON A LONDON WINTER TRIP
London in winter is magical!
I have visited London many times, my trip in December was one of the most unique London trips. I truly enjoyed the special atmosphere, and I do believe it is a great idea to spend a few days next winter in London. As you can see, there are tons to do and see in winter.